MASONPROOF – CLEAN, WATERPROOFING TO SAVE MONEY THROUGH REDUCED EXTRA RE-WORK
GBL COMMERCIAL CARPARK
Start Date: August 2017
BEFORE SHOWING ALGAE / MOSS / DIRTY GRIME
DURING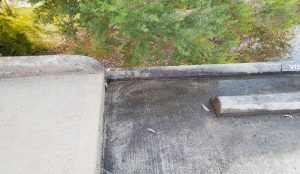 DURING WATERBLASTING CLEAN DOWN, THE STAINS FROM THE TREES SAP TOUGH TO WASH OFF/
DAY 1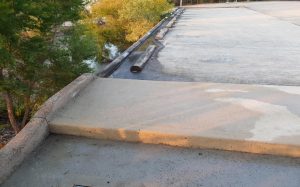 CAR-PARK WASHED DOWN/PREPPED AND READY TO MASONPROOF AND SEAL/
DAY 1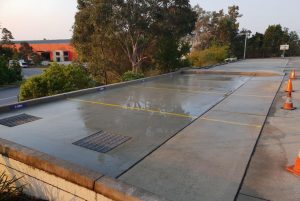 WE PRESSURE WASHED THE WHOLE CARPARK, DATED; AUG 2017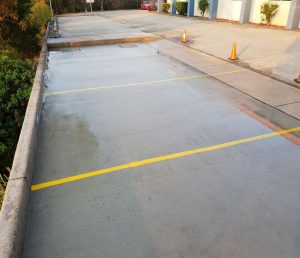 STAGE ONE; MASONPRROF APPLICATION/ DAY 2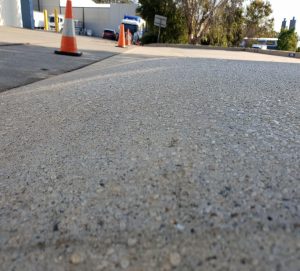 FINAL APPLICATION COMPLETED / DAY 2
THIS PHOTO SHOWS THE BEEDING EFFECT WHICH TELLS YOU THE CONCRETE SURFACE IS SEALED FROM THE ELEMENTS
THE WATER BEADING EFFECT SHOWS THE MASONPROOF TREATMENT IS COMPLETE & WORKING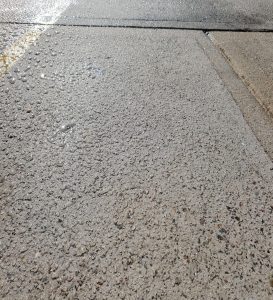 PHOTO UPDATE: 07 / MARCH 2019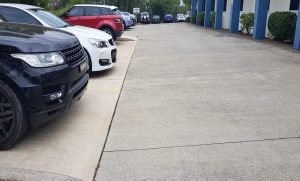 NOTE: THE UNTREATED GREY AREAS GOING DARKER WITH GROWING AGLIE/MOSS, COMPARED TO THE LIGHTER MASONPROOFED TREATED AREAS, NO COLOUR CHANGE, STILL CLEAN
Dear Scott, and Jeff (GESA & GTS)
A few words of thanks, I have to admit I was not that convinced in the beginning your MasonProof solution would control our Moss, Black & Green Algie, or Tree Sap stains would actually work on our Carpark areas, you treated back in August 2017.
Every time we get winter Rains, These Photos show how good "MasonProof" Continues to work for us..
Today 07 March 2020, is now approx. 32 months on, There has been "No regrowth of Algae, Moss, and Blackening, nor dark tree sap stains that normally returns over the damp winter seasons.
My Pressure washing costs have reduced to Nil through this period, so its time treat the rest of our Carparks now Pls.
"Simply put – Your MasonProof solution really does work" let's get the rest of the car park sorted and can I get some for home.
Martin Omara
CEO of, Global Brands Liquor Pty Ltd, Cameron Park, NSW