G.J. Gardner Homes Newcastle
Mark Eddy
Managing Director                                                                                      Date: 10/09/2018
G.J. Gardner Homes Newcastle
154 Hannell St. Wickham NSW 2293
| | |
| --- | --- |
| T 02 49290100 | M 0448891516 |
GES-DIRTGLUE – PRODUCT TESTIMONIAL: FOR " MASONPROOF"
Dear Mr Scott Flinn,
As you are aware we have been trialing your GES product " Mason-Proof" to assist us with Masonary, Blocks, Bricks, & Plaster wall Water-Proofing solutions over the past 12 months.
Our Trial sites;
J Gardner Build: Sloped Section / Two Story / with Block Wall basement Address: 51 Discovery drive, Fletcher NSW 2285.
Action Plan:
Water-Proof the Ground floor Basement Walls
Negative Walls (Inside Wall)
Positive Walls (Outside Wall facing the Ag-Soil & Water pressure side)
GES MasonProof – Waterproofing Application Process Date: Went ahead Jan 2017 Moisture Trial Testing Performed: November 2017
Showed Moisture readings;
Positive Wall Readings: Tested & showed moisture at between Low 290 to 395 high Negative Wall Reading: Tested & showed moisture at between Low 190 to 290 high The Minimum Aust-Housing Moisture Reading Standard: Is Under 600
Solution:
Ges-MasonProof was applied at an application rate of 14 to 1 litre of MP
Summary Outcome;
August/2017; 8 months on, The walls are still dry,
Further Tests: Feb 2018 in our 2nd tests we performed, Again these walls are still dry at the same readings, following a wet 2018 winter season.
In our mind a positive result for us as a business.
2).   GJ Gardner Build: Home Dwelling
Divided by a Masonary Brick center wall, Between home living & Car Garage Address: Elcho Street, Hamilton Newcastle NSW 2300
Action Plan:
Water Proof Center Brick Divider walls, Between Living Side & Garage,
Current problem, Water leaking through flashings & Moisture in in the builder bricks And block wall.
Solution:
Step one; GJ Builders sealed all cracks & gaps in the Center line Brick
GES-Dirtglue Applicators; Used MasonProof to water proof the Masonary Bricks MasonProof Application Mix ratio 14 to
Application Date: 3rd April 2018
Inspection Date: 4th  April 2018
Which included a Water Splash test onto the exterior outside walls. And also the Internal walls as well.
Our Summary Outcome:
This was a very difficult site, The home owners supplied their own Aged Bricks from a Melbourne VC, Historical site.
Some of these bricks had defects, Cracks, and a lot of moisture in them, I advised them this will create unexpected problems if we don't get this right and sadly this proved to be true.
GES-Dirtglue offered excellent Sales & Tech support through the following;
Your on site inspection & Appraisals process
Solutions and advice to solve the Water Dampness issues
Picking the right product: MasonProof
And working through how to fix and apply MP to the
Overall the Home is still water tight, No signs of
We have a very happy customer, which is the
And we are very grateful of your support shown towards GJ Gardner & My
Like to thank you & the GES-Dirtglue team,
Mark Eddy
Managing Director
G.J Gardner Homes Newcastle
Trial Site 1). 51 Discovery Drive, Fletcher NSW
Before;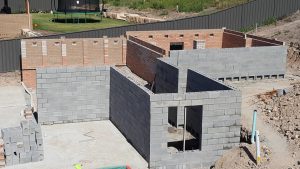 After, We Waterproofed with MasonProof, Note the Soil Earth worked up to the Outer Walls.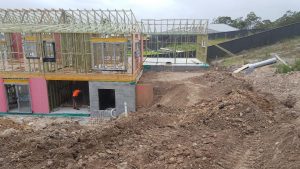 Trial site 2). Elcho Street, Hamilton, Newcastle NSW
Before;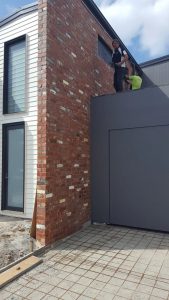 After;
MasonProof is applied, Check the Water beads to show it working.