2 years ago, June 2018, All the Sandstone retainer walls The Blocks in this Picture were Pressure washed.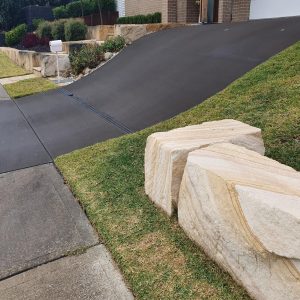 On the left of this Picture, The 3 x Sand-Stone Blocks 1.2 x 600mm x 600mm were Treated with MASONPROOF
Treatment in a trial process June 2018,
Upon a follow-up Inspection today 12th June 2020,
It is amazing the retention of the Vibrant colours and how clean the Sand-Stone Blocks still are today.
6 MONTHS AFTER PRESSURE WASHING OF THE UNTREATED SURFACES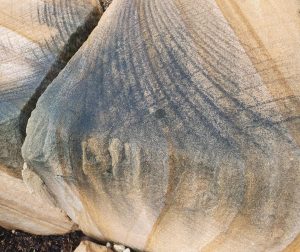 "FINALLY A TREATMENT THAT ACTUALLY WORKS"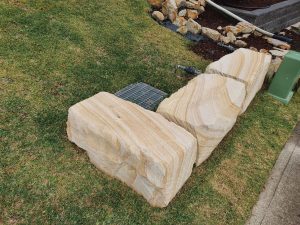 THANK YOU MASONPROOF / GES PRODUCTS!
FINAL STAGE TO COMPLETE THEIR SAND-STONE TREATMENT, (JULY 2020)
Hi Jeff and GTS team,
I wanted to write to you and thank you for your assistance with rejuvenating our sandstone blocks used in retaining around our home, as you know they had become discolored and begun to stain black.
The blocks have been installed for 3-4 years as we had them done in 2 stages, with the oldest walls showing the worst of the black mould on them.
We had previously tried a sealant available from Bunnings but found that it wasn't making much of a difference to the wear and appearance of the sandstone in the sections we had applied it to test its efficacy.
In late 2018 we heard through word of mouth about GES and after chatting with you about the blocks, we had a look at MasonProof on your website and decided we would have a small section pressure washed and treated with MasonProof as a trial while pressure washing other blocks to compare.
12 months later we were pleased to see that the section tested had remained mould free and water still visibly beads on the surface of the blocks. This is in contrast to the remaining walls which continued to blacken and stain.
After chatting to you again we decided to proceed to have the remaining walls cleaned and treated with MasonProof in June 2020 and are so far happy with the results, again water is beading off the sandstone and they look as new again,
Some points worth noting
– We noticed that after the pressure wash, some slight dark stain still remained on the worst affected areas, but overall, very close to looking like new.
– After the MasonProof treatment, we saw an improvement in the 'brightness' of the stone colour from the dullness due to mould covering/stains.
– While we realize there is still some cleaning and maintenance required, after seeing the effects of the trial area we did, we are convinced the time between washes and ease of washing will be much more economical.
– Some grass die-back happened around the base of some blocks but has grown back without issue.
Everything was done as promised and on time, no mess was left, and no complaints from us at any point either when we had the trial applied or the remaining blocks treated.
I would definitely apply MasonProof at time of installation of the blocks if we had the time again.
Thanks again
Jeremy Dear
Fletcher Newcastle NSW
Before & After, MasonProof Treatment (Below)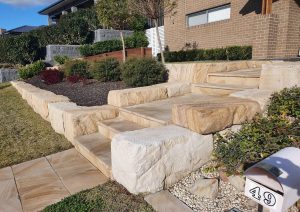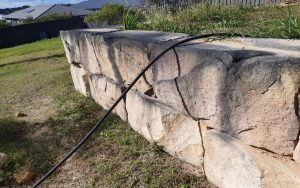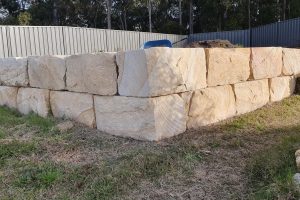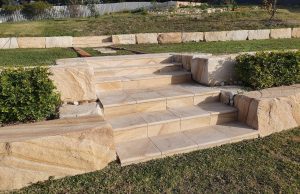 Jeff & the GTS/GESA Team,
here are a bunch of Before and After Photos that I promised from today 26 July 2020,
Following The final stage of our Clean-up & MasonProof treatment.
And what an amazing job, We actually thought all the Black Mould stain was going to be trapped inside
our sandstone for ever, Its been an amazing transformation & well worth the extra investment to finally
preserve our sandstone and lower the painful rework we have been doing over the last few years.
We can't thank you guys enough, for all the help & great advice along the way,
Jeremy